The Top 5 Can't-Miss Boston Attractions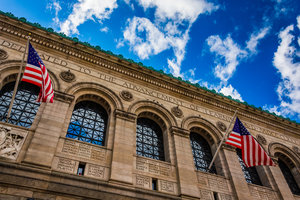 Whether you're a born and raised New Englander or planning your first visit to the East Coast, there is always plenty of fun to be had when you explore Boston. In fact, it can be a little overwhelming choosing which sights to see and which ones to pass on if you're short for time. For that reason, we have compiled the top 5 attractions for the next time you travel to Boston. We certainly wouldn't want you to miss any of the good stuff!

Museum of Fine Arts - For the historian, art lover and passionate traveler alike, The MFA is a renowned institution that is not to be missed when you travel to Boston. A slew of famous impressionist paintings begs for a relaxing afternoon at this inspiring Boston museum. If you happen to be spending the day here, stop by the MFA Courtyard Cafe to enjoy a pleasant spot to grab a bite to eat!

Boston Public Garden - The first public botanical garden in America! Beautiful paths surrounded by colorful and fragrant flowers make this a delightful spot for a stroll. Admire the blooms and the abundance of plants that line the walking paths or hop on a swan boat to check out the garden from the water!
Faneuil Hall - This delightful marketplace has something to offer every member of the family! Shop, dine and enjoy this iconic attraction while street performers show off their best acts to a loyal Boston crowd. Children and adults will love every moment!

Museum of Science - With over 700 interactive exhibits, the MOS is surely a crowd-pleaser. Take your pick from 65 million-year-old fossils to the butterfly garden, IMAX films and planetarium shows (and a whole lot more) all in the same convenient location. This is an attraction you don't want to skip over when you travel to Boston!

Fenway Park - Whether you're rooting for the Red Sox or not, this is a no-brainer for any baseball fan. Feel the spirit of Boston come to life and enjoy lively crowds, your favorite stadium treats, and a great game. Watch the city come to life at this ballpark where the greatest legends have played for years.
Now that you have some stops filled out on your itinerary, don't forget accommodations. Skip the hotel and call Copley House for a cozy, affordable alternative. Our fully-furnished apartment rentals nestled in Boston's Back Bay are sure to feel like a home away from home while you explore Boston. Call us at (617) 236-8300 to book your stay!