Top Breweries to Visit in Boston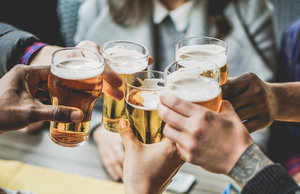 Visiting Boston? That means breweries are essential to have on your list of places to visit, even if you don't plan on drinking, and of course, if you're 21 years and older! We've compiled a list of a couple of the best breweries in Boston, Massachusetts just for you so you don't have to find them on your own.
Samuel Adams Boston Brewery
The iconic and true brewery of Boston, is, of course, Samuel Adams Boston Brewery. Whether you're a fan of beer or not, the Sam Adams Boston Brewery is an iconic part of the city. They opened in 1988, and have been adding new things ever since.
You're able to take a
tour
, visit their
Tap Room
, and they even offer different events and you can find them on their
schedule
! On their tour, "you'll learn all about beer ingredients and the brewing process," and if you're looking to try out a few of the brews, you "can taste the roasted malts and smell classic German Noble hops that give Boston Lager the distinct flavor and aroma that have made it an American original." And if you've tried the original tour already, they also offer different tours, such as their "Morning Mash-In Tour" and "Beyond the Brewhouse Tour."
This brewery should absolutely be at the top of your list!
Harpoon Brewery
Both a Brewery and a Beer Hall all in one, their location in Boston is the place to be! Offering their full selection of Harpoon Beers "straight from the source along with delicious pretzels to pair with your pint."
Not only that, but you can even take a tour, where you will be guided around the brewery and get "an up-close and personal view of the brewing process." Along with the tour, you'll be able to "enjoy a range of freshly-brewed Harpoon and UFO beers." What more could you want during a visit to a brewery? Not only that, but you can find their active list of brews they have on tap in their Beer Hall and the Tour Schedule
here
.
Widowmaker Brewing
Feel like visiting right outside of Boston or it's already in your itinerary? Find this brewery right in the heart of Braintree, Massachusetts, only a half-hour drive from Copley House!
Although they don't offer Tours at the moment, you're still able to enjoy their fresh brews right in their Tap Room! Not only that, but they offer their newest beers weekly, and update their selection on their
website
so you know before you take the trip!
While based out of Canton, Trillium Brewing Company has a major presence in the heart of Boston! They have a Taproom in Seaport and a Beer Garden on the Greenway for you to visit! They are "grounded in the concept of a New England farmhouse brewery, using local ingredients whenever possible. From our wild ales...we aim to produce beer that is both approachable and engaging."
Find their locations and more about them
here.
Night Shift Brewing
Based in Everett, Massachusetts, right north of Boston, Night Shift Brewing "was founded in 2012 by a trio of friends with a shared passion for homebrewing...With this growing "family" in place, we exist to always create better for our staff, customers, and community." You can find them in two locations in Boston! Right on Lovejoy Wharf and at Owl's Nest, their seasonal pop-up beer gardens, right along the Charles River. Learn more about them
here.
Do you have any breweries you'd love to visit while you're in Boston? And of course, If you don't already, be sure to follow along with us on social media (@copleyhouse) to stay up to date as new events and shows come to town!
Skip the hotel and call Copley House for an affordable alternative for your stay. We offer fully-furnished apartment rentals located in Boston's Back Bay. Our apartments are sure to have you feeling at home while you explore all that Boston has to offer this summer. Call us at (617) 236-8300 to book your stay!
And remember to always Drink Responsibly! And Never Drink and Drive!