Your Guide to Boston Attractions - July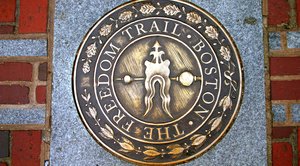 The start of July marks the true start of the summer season...the perfect time to explore Boston. With a variety of outdoor parks, gardens, and shopping, there is always plenty of fun to be had at low or no cost when visiting. Below you will find our favorite free Boston attractions for July.
Boston Freedom Trail
: On a sunny afternoon stroll the most iconic, historic sites in Boston. From the Boston Common and Massachusetts State House to the Paul Revere House and U.S.S Constitution, the history buffs in the family will surely love this exciting walking tour. Pick up a map at the Visitor's Center (and grab your walking shoes) to get the most out of this 2.5-mile trail.
Free Movie Fridays at the Hatch Shell
: Thanks to WBZ Radio, you can catch free movies on Friday evenings July through August. The perfect way to end a week of exploring Boston with the whole family! Follow along with the
online schedule
and catch a classic flick with friends and family for a relaxing evening.
Boston Public Library
: A fan favorite of Boston attractions, the Public Library boasts not only the central location but also 25 additional neighborhood branches accumulating four million visitors per year. This popular spot is a great place to check out when you need a break from the wandering, strolling, and shopping.
The Black Heritage Trail
: Beacon Hill, lined with cobblestone alleys and historic homes is the perfect spot to take in some Boston history. The Black Heritage Trail consists of 14 sites beginning at the Robert Gould Shaw Memorial winding through the Beacon Hill neighborhood, and ending at the African Meeting House. This trail is chock-full of iconic sites and is a Boston attraction not to be missed.
Stargaze at Coit Observatory
: Enjoy a night of stargazing and observing the night sky through the telescopes at Coit Observatory at Boston University. In the summer, primetime is after 8:30 pm and you and your family or friends can enjoy up to an hour of watching the night sky for free. Keep in mind this Boston attraction is weather permitting!
Check online
for cancellations before you head out if the weather looks questionable.
If you don't already, be sure to follow along with us on social media (@copleyhouse) to stay up to date as new events and shows come to town! With all these exciting Boston attractions to see and do, skip the hotel and call Copley House for an affordable alternative for your stay. We offer fully-furnished apartment rentals located in Boston's Back Bay. Our apartments are sure to have you feeling at home while you explore all that Boston has to offer this summer. Call us at (617) 236-8300 to book your stay!