Blog
Explore our blog to learn more about our favorite parts of Boston.


Why You Should Visit Boston in the Fall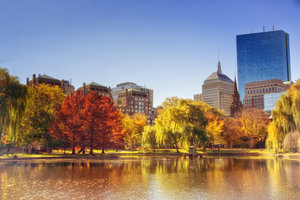 New England in the fall is a sight like no other. You cannot ignore the beautiful trees lining many of the roads as the leaves change from green to countless shades of yellows, reds, oranges, and browns. Boston is a particularly incredible sight come autumn. With the historic brick buildings and public parks, there are so many sites to visit to truly experience the beauty of Fall.
Brown Brick Buildings
All over the city, you can find old apartment buildings, storefronts, churches, mills and more constructed with beautiful red and brown brick. Many of the streets lined with these historic brick buildings are narrow and can transport you back to years ago. Walking down these roads in the fall is truly an experience. Many people in Boston like to decorate for the fall, so your walk will also likely feature some pumpkins, straw, fall wreaths, and the like. While Boston is a large city, the small side streets are calm, quiet, and serene. Copley House is one of many historic brick buildings you can enjoy in the fall, and plenty more are just a short walk away.
Boston Common
If you really want to surround yourself with the sights of a New England autumn, take a walk to Boston Commons. The famous park was established in 1634, making it the oldest public park in the nation. Lined with trees and framed by the Massachusetts State House, Boston Common is a perfect place to spend a fall day. Put on your sweater, grab a coffee, and stroll through the park taking in the colorful foliage and brisk Boston air.
Brewery Tours
Beers and other alcoholic beverages change with the seasons. Boston is home to many breweries - big and small - that produce some amazing seasonal brews. On your fall visit to Boston, go on some brewery tours and try the newest flavors from your favorite companies. You'll get to try pumpkin spice brews, hard ciders, and fall sangrias. Warm-up with a great drink and your friends and family (over 21 of course), and celebrate some of Boston's finest local breweries. Need some guidance about what breweries to visit? Check out our top picks in the city here:
https://bsyl.ink/BostonBreweries
.
Fall is fast approaching. Skip the hotel and call Copley House for an affordable alternative for your stay. We offer fully-furnished apartment rentals located in Boston's Back Bay. Our apartments are sure to have you feeling at home while you explore all that Boston has to offer this summer. Call us at (617) 236-8300 to book your stay!